Before understanding about IT certifications. First, you must be familiar with the term certification.
What does it mean? and How can we use it for the betterment of your professional career?. In this article, we also provided you with the list of Top 10 Highest Paying IT Certifications of 2018 which you must have under your belt if you want to boost your career in IT.
What are the Certifications?
Certifications play a major role in any professional career, And when we talk about I.T (Information & Technology) the importance goes to another level. Many Multinational companies such as Google, Facebook, and Amazon always hunt for those people who have some kind of certifications under their belt.
These certifications provide an edge to your career and increase the chances of your selection. So, If you see your future in I.T, then you must possess some i.t certifications so that recruiters can easily pick you up.
How do IT Certifications boost your career?
For better understanding consider this example," if a company is hiring for a position of Java developer and there are tons of candidates who are applying for that position, then naturally the chances of your selection gets to minimal.
And also you can't deny the facts that some of them might know Java more than you.
                                                  "But here you can change the game."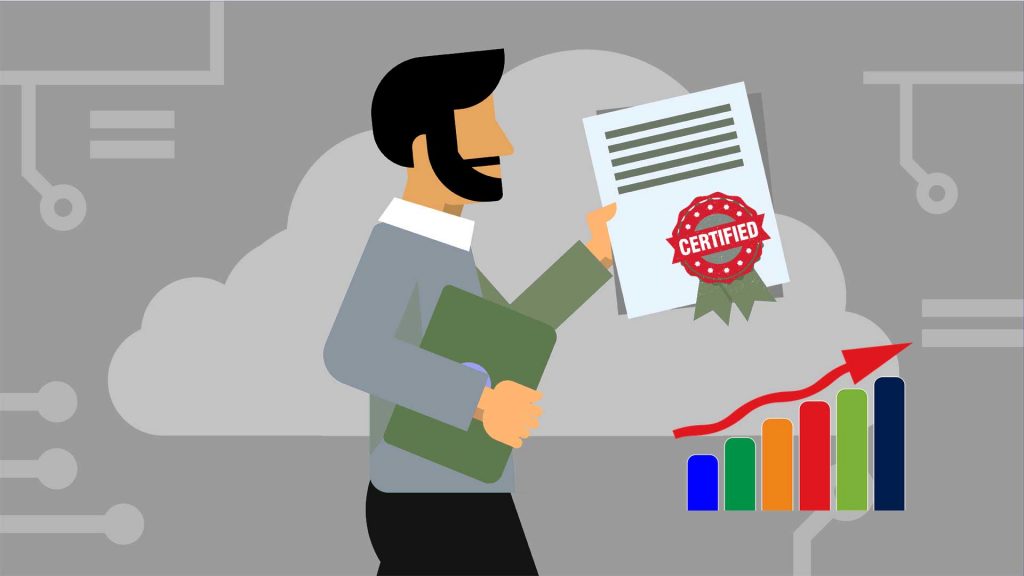 If you have some certifications in Java, then the chances of your selection will obviously boost to some extent. This clearly gives an impression to the recruiter that you already know enough about this language as you are certified in Java. So in this article, we are providing you with Top 10 Highest Paying IT Certifications of 2018.
1. Certified Ethical Hacker (CEH)
If you want to live a life of Hacker aka "Security Researcher". Then you must have a certification of Ethical Hacking with you. As we all know that there is no professional college or university in this world who can teach you hacking.
As most of the people took this profession in a wrong way.
They always imagine a guy sitting in a dark room with a hood on his head and a laptop, breaching into the company's server for data access and all.
Which is not so true. These days Big Tech Giants such as Google, Facebook, Apple or Amazon has its own set of security professionals who have the authority to hack their websites in order to find loopholes so that they can work on them.
This is called White-Hat hacking and you can also work like them. By simply having a certification of Hacking (CEH) from a reputed online or offline institution. Also, note that a certified white hat hacker can earn up to $106,375 per year which is pretty nice. So in our opinion, you can look up for this i.t certification.
Also Read – How to become a Certified Ethical Hacker 
2. Certified ScrumMaster (CSM)
Certified ScrumMaster is the coolest IT certification you can ever have. It's among the popular project management certifications available in the market today.
Scrum refers to that type of management style in which teams do a bunch of meetings every day in order to track the progress of a project. A certified ScrumMaster ensures the high-productivity and good efforts of the team members in regard to that project. So getting certified means having all the required skills under your belt. Also, a certified ScrumMaster can earn up to an average of $106,938 per year.
Also Read – Top 10 Project management tools
3. Certified Information Security Manager (CISM)
As we all know that these days the security of data and information is very crucial. Many data scientists use our online data to prepare reports for their respective organization's welfare and growth.
Companies hire these security managers to ensure the safety of information. The job of these managers is to design and engineer security protocols by simultaneously ensuring a company's security. They are also allowed to have an access to lines of business which is clearly out of IT league.
CISM people are well paid with on an average of $108,043 per year. But for that first, you have to pass a test of 200 questions related to information security governance, information risk management, and incident management as well.
Also Read – 5 Best Programming languages for data science
4. Certified Information Systems Security Professional (CISSP)
Information systems security professionals are those folks, who are hired to design, manage and determine the architecture of a company in order to ensure its safety. If your work revolves around analyzing, auditing and systems engineering then you must have a CISSP certification under your belt.
In order to become one, you need to first pass the test with a minimum of five years of experience. If you cleared the test you can easily earn up to $111,475 per year which totally worth it in our opinion.
Also Read – 5 Must-Have Credentials for I.T Security Professionals
5. AWS Certified Developer – Associate
Here the word AWS stands for Amazon web service. If you are really good with the development of web services and apps, then this certification is must for you. AWS certified developer have good technical experience in development and maintenance of apps for amazon web services.
Anyone can get this by simply passing an exam which consists of multiple-choice and multiple-answer questions. The time assigned for this is just 80 minutes. Also with prerequisites and one year of hands-on experience with in-depth knowledge of at least one high-level programming language could be great. Well, an AWS certified Developer earns on an average of $114,148 per year.
Also Read – 10 Cloud Computing certifications that will land you a six-figure salary Job
6. Project Mangement Professional (PMP)
As we all know that Project management plays a very important role in the successful delivery of projects. So the certification of PMP ensures the chances of quality projects from a firm. The certification depicts the holder's ability to manage teams as well as various projects.
Though earning this certification is not an easy task to do. The candidate is tested against 5 major areas such as initiating, planning, executing, monitoring and controlling. If you manage to clear the test then you can earn up to an average of $114,473 per year.
7. Six Sigma Green Belt
Six Sigma refers to that business methodology which makes the use of data and statistical analysis to improve business efficiency. By having a green belt of Six Sigma you are ensuring profits of your organization by eliminating mistakes, waste and rework.
This certification is must if you want your organization to shine among all. And also by contributing to this, you are ensuring your future safety in that firm as well. Though there are a hell lot of organizations that offer different paths to this certification, but Global Knowledge offers certifications in a more better way. Folks with Six Sigma Green Belt can earn up to $104,099 per year.
Also Read – 6 Ways to Improve Your Relationship Marketing Strategy
8. AWS Certified Solutions Architect – Associate
As we can judge by our above-mentioned point AWS certifications are hot pick this year. This AWS exam tests your expertise on designing systems on AWS. If you have an hand-on experience in AWS services then passing this 80 minutes of test will be a piece of cake for you.
Talking about the exam, this paper is administrated by PSI which centers across the United States. If you managed to pass this exam well then surely you can earn up to $121,292 per year and this figures are for on average.
9. Certified in Risk and Information Systems Control (CRISC)
If Risk and information system excites you than this certification will be a boon for you. In CRISC a candidate will be tested against five major areas Identification, Assessment, Response, Mitigation, and Control Monitoring which clearly sounds a bit difficult but worth it. Though the test duration is 4 hours and you have to attempt 150 questions in it. If you managed to pass the test then surely you can earn up to on an average of $111,049 per year.
Which is quite well actually. So in our honest opinion, you can go for this option as well.
10. Certified in the Governance of enterprise IT (CGEIT)
The folks with CGEIT certifications are expert in managing, advising, and providing assurance services when it comes to enterprise IT governance. These certificates can lead to many roles such as Risk management officer, IT Risk Leader, and Assistant IT Controler as well.
CGEIT is a very profitable certification as the demand for the people with this certification is always high. This leads to the income of a person who is certified in the governance of enterprise IT which is on an average of $121,363 per year. It costs $575 to take the exam, but considering the opportunities involved, this value is nothing.
So this was all regarding Top 10 Highest Paying I.T Certifications of 2018. 
Stay Tuned For More.